What people are saying: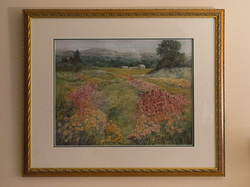 "There is something enlivening and rewarding about buying art from the hand of the artist, still infused with creativity.

We happened across Kris Mitchell paintings at an Open Studio weekend (like a pub crawl for art studios). One of her landscapes I especially liked. We'd had a framed but faded Monet print over the mantel for years that seriously needed replacing. This one appealed—but was too small. I asked Kris if she had larger pieces. No, but she could make one. We took her card to ponder.

By the next day we'd asked to borrow the small one to wear briefly for color and tone. Within a day my husband and I both voted Yes. We wanted this one with a little more sky and in a noticeably larger size.

Kris was a delight to work with. She offered to pick up the borrowed piece and see our space, color and lighting. The three of us readily agreed the frame we had would be well suited to this one, so she measured and sized the new one precisely to fit. She assured us beyond the small down payment we had no obligation to buy if we weren't completely satisfied.

Kris offered to email photos along the way. Intriguing to see the process—and a bit scary as the not-yet completed scene (of course) wasn't matching our vision.

The three of us were naturally anxious when she brought the finished painting to us. We were afraid of disappointing her if we weren't pleased enough to buy it. She was hoping to not disappoint us. So we said all that, first thing, to clear the tension in the air. I loved hearing about her process—and it bought us all a little time before the unwrapping of the piece.

She unwrapped it. We held our breath. Ahh—we loved it! (Chuckles, hugs, sighs of relief all around.)

Kris took it to her home studio to seal it, and happily met me at the frame shop to help select mat and colored liner. It was fun to have her come back to our home to see it once it was settled in its place.

And we have the joy of an original piece, a quietly inviting Willamette Valley landscape with flowers, warmed by her artist heart. A commissioned piece of art—now that does sound classy. And it is.

And yes, Kris, you really did "replace a Monet"!"

~ Marilyn & Ken
---
---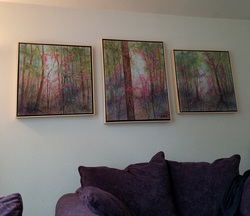 "The paintings are loving their new home. LOVE IT!"

---
---
"On the Wild Side is beautiful on our wall. Even more so than in the studio. Love it! We love how the colors vary with changes in light, but most especially we love all its motion. Thanks, Kris."

---
---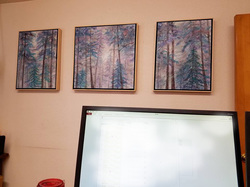 "I Am At Peace When I Am Here! Love them!" ~ Dena

---