""I have been making art for more than 40 years. Early in life I felt I was a part of nature, ultimately dependent and connected to the natural world. Eventually, the years have led me to try to express the poetic heart of the landscape. I feel at peace when I am surrounded by nature and lighthearted when I am painting… what you see is my pilgrimage."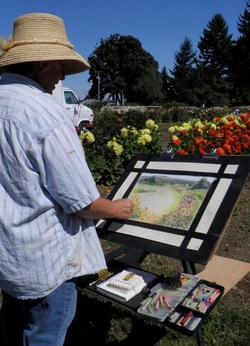 Kris Mitchell grew up in Idaho. To be more precise, in the Treasure Valley, the heart of the lowland farmlands between the picturesque foothills of the Rocky Mountains and the Owyhee Mountain Range. Kris moved to Oregon in 1989 where she became inspired by the pastures and vineyards of the Willamette Valley and the ever-changing hillsides of the Coast Range she now calls home. Her recent work consists mostly of en plein air landscapes, weather permitting, and exploring techniques that push the limits of her artwork when its too wet to go outside.

Kris is a much admired and loved art instructor at Linn Benton Community College - Benton Center and she teaches workshops throughout the central Willamette Valley of Oregon. Kris stays active in many art groups around the local area, combining her favorite things; traveling, painting, and helping others to enjoy the same.
---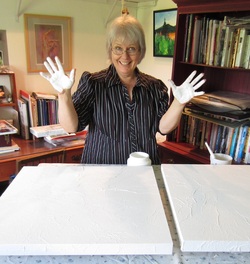 I start my mixed media paintings with cradled birch painting panels that are produced in the USA from locally grown and sustainable products.

Next I create a textured surface from handmade paper giving each one a unique and totally random appearance.

I use only non-toxic light-fast painting materials to protect my health and that of our planet.

Each painting is a one-of-a-kind original work of art.
---